Four things to know before you purchase
Companies sponsor H-1B at the job level, not company wide.

If a company has sponsored for H-1B it doesn't mean they sponsor for every position.
There are no guarantees that every company on this list will sponsor you.
Nobody can promise that. :) Companies sponsor H-1B for specialized workers. If you are specialized, have experience, and can show a company that you have the specialized skills to do the job, you are most likely to get sponsored.
The Top 250 List is not a spreadsheet to download.
There is no spreadsheet to download. Instead you get access to 250 company profiles listed in alphabetical order. You also get a spreadsheet template to help you organize and add companies to create a Company Target List.
Your access to company profiles looks like this: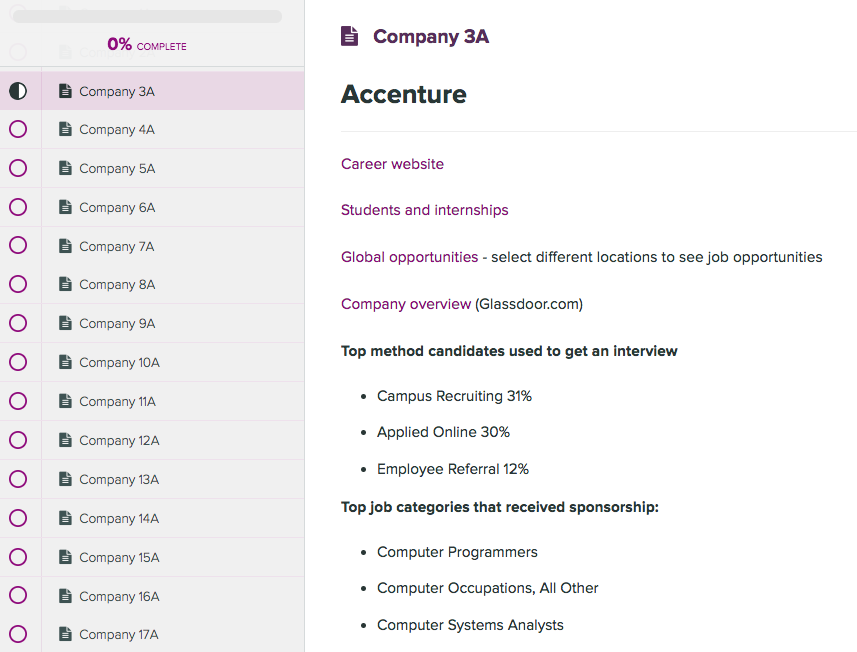 This list is included in the International Student Job Search Strategy Group.
There are two ways to get access to the Top 250 list. The list is included as a resource if you are a member of the International Student Job Search Strategy Group. You can purchase this list separately or you can apply to be part of the H-1B strategy group. We only accept 100 members in the strategy group. If applications aren't open or the group is full, please sign up on the waitlist.
And one more thing... our buttons say "Enroll in course." But this isn't a course. It's just a list of company profiles which all sponsored H-1B in the last year. Explore more using the preview buttons below.