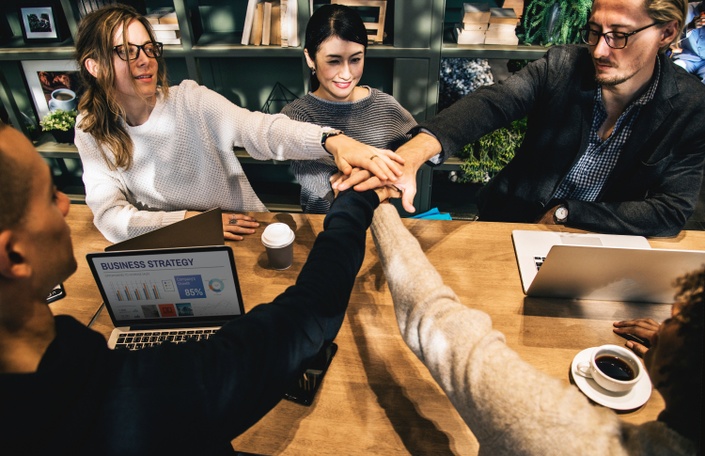 H1B Accelerator Program
Find H1B companies, get sponsored, and save time in your US job search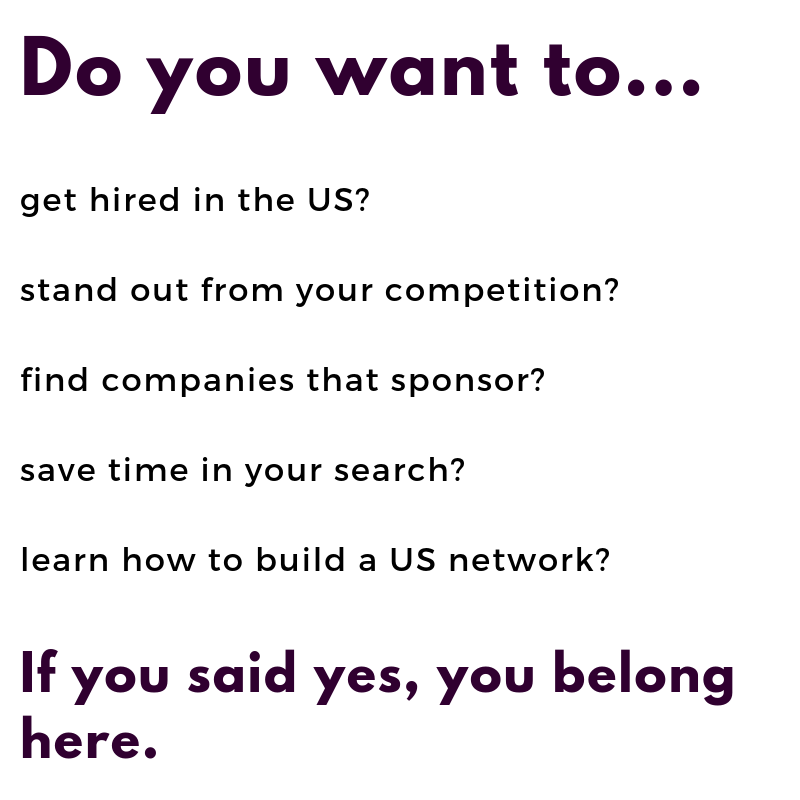 We teach you how to get a job in the US.
The H1B Jobs Accelerator Program teaches you how to succeed in a US job search. Our group is for international students who are serious about the US job search.
Our training doesn't fit into one workshop.
In 8 weeks, you will learn how to get hired in the US.
You will learn how to:
Identify the right jobs that fit your academic study
Assess your qualifications for a job so you avoid wasting time applying to bad jobs
Stand out from your competition
Find companies that sponsor H1B for your target job
Write better cover letters that get noticed
Make an impression during US interviews
Ask smart questions during informational interviews
Build a useful network and contacts on LinkedIn
Get a referral inside a company
Conduct informational interviews with impact

Find a mentor who understands your experience
Promote your experience and skills in the American cultural style
Negotiate for your US job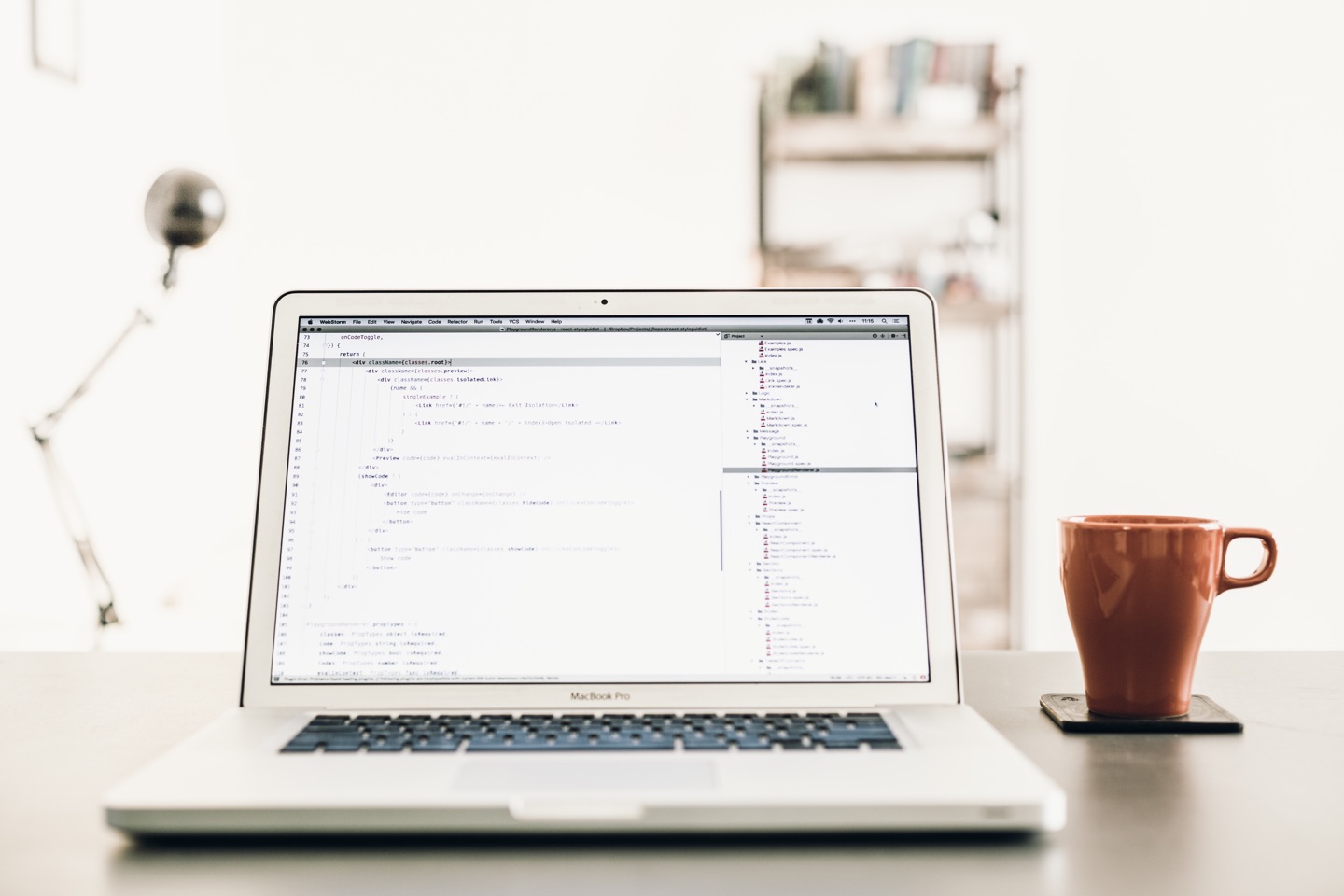 super duper helpful!
- Dhiraj, Informational Interviews for International Students
This is what you get in the H1B Accelerator Program: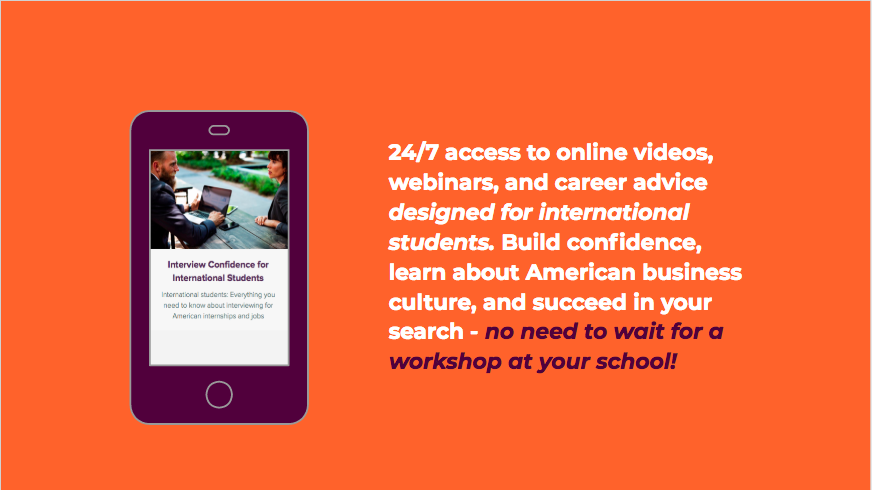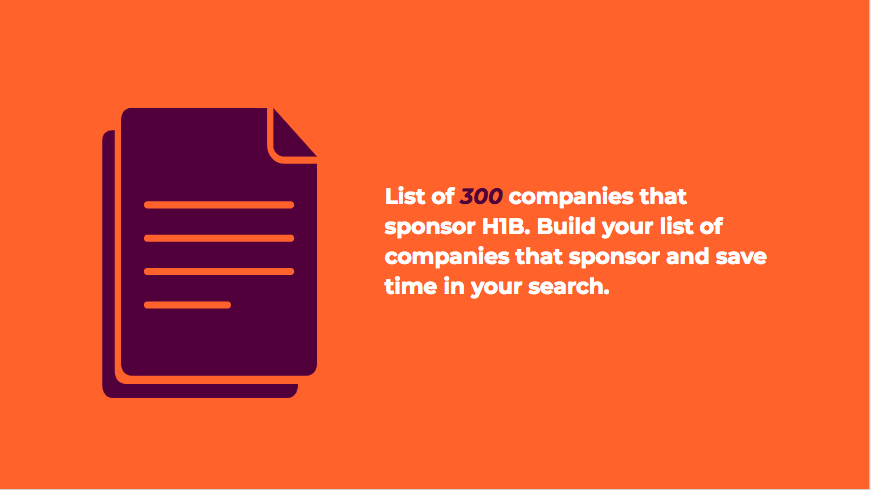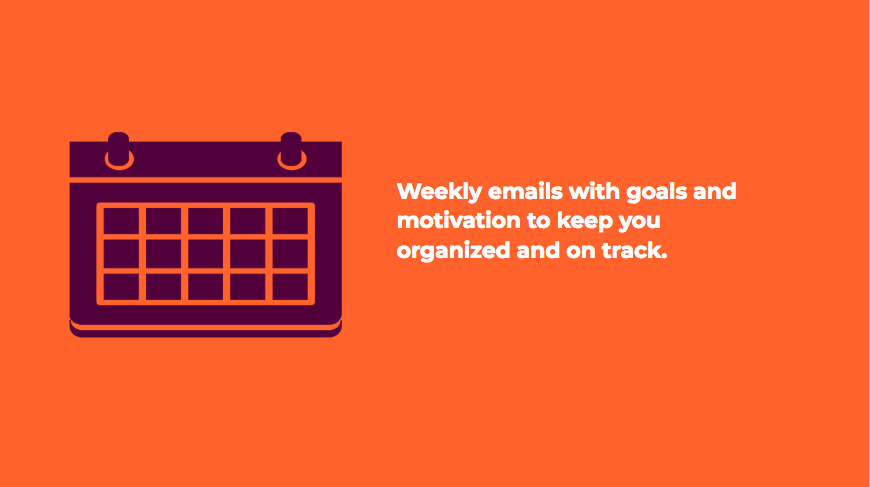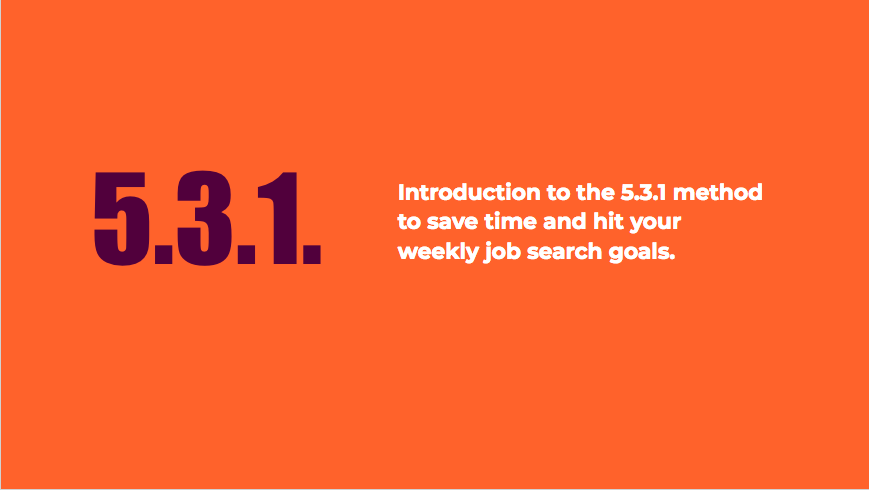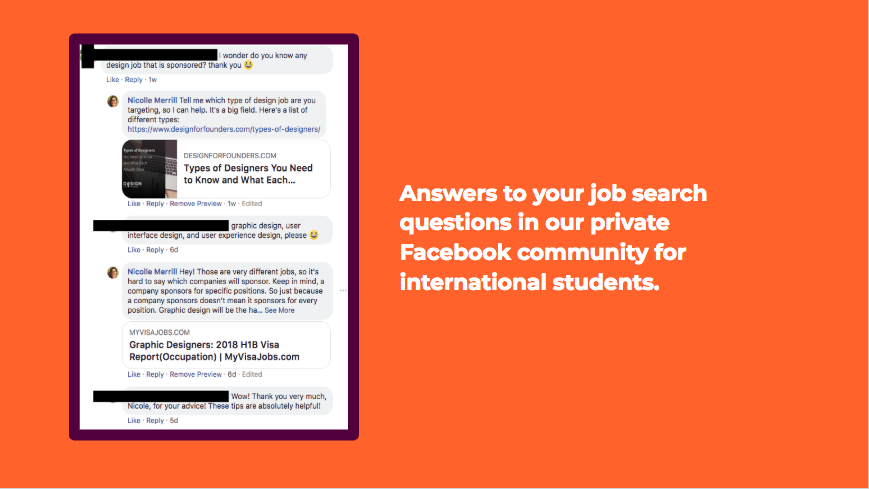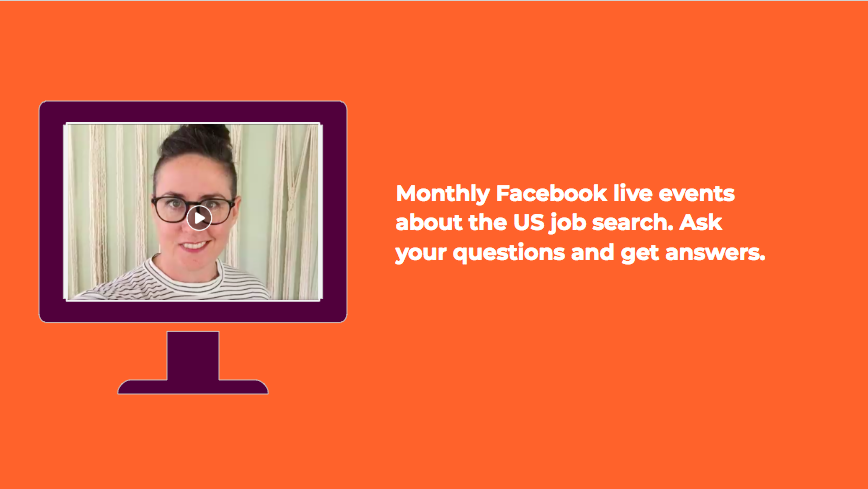 How This Course Works
This online course is 8 weeks.
Each week is a new unit. You receive an email each week introducing you to the next step.
Each unit gives you insights into the US job search, improves your competitiveness, and builds a strong US job search strategy.
Stay organized, save time, and make progress.
Every seven days we email you access to a new unit.
We only send one unit a week so you can make job search progress while balancing your school responsibilities (and social life!)
Don't get stuck submitting resumes with no results.

We offer Facebook Live events to answer unit questions. If you can't attend, submit your questions in advance. We will answer them. Watch the replay at your convenience.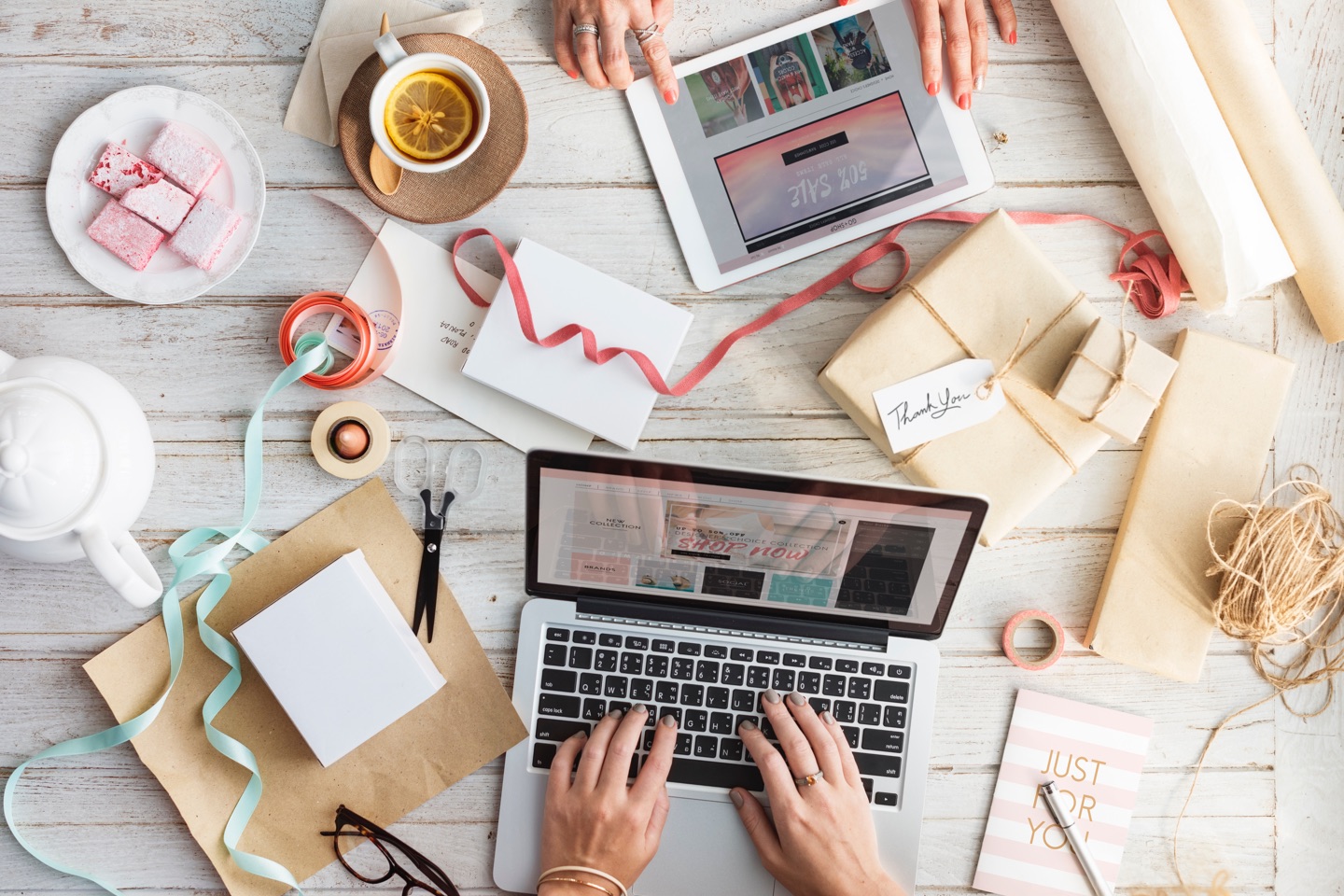 Thanks Nicolle!! This has given me a lot to think about!
- Valerie, Choose Your Own Global Career Adventure webinar
The H1B Accelerator Program makes you a more competitive candidate.


Even better, it keeps you organized and saves you time.


We combine global career training with Ivy League expertise and a future-oriented outlook.
Your Instructor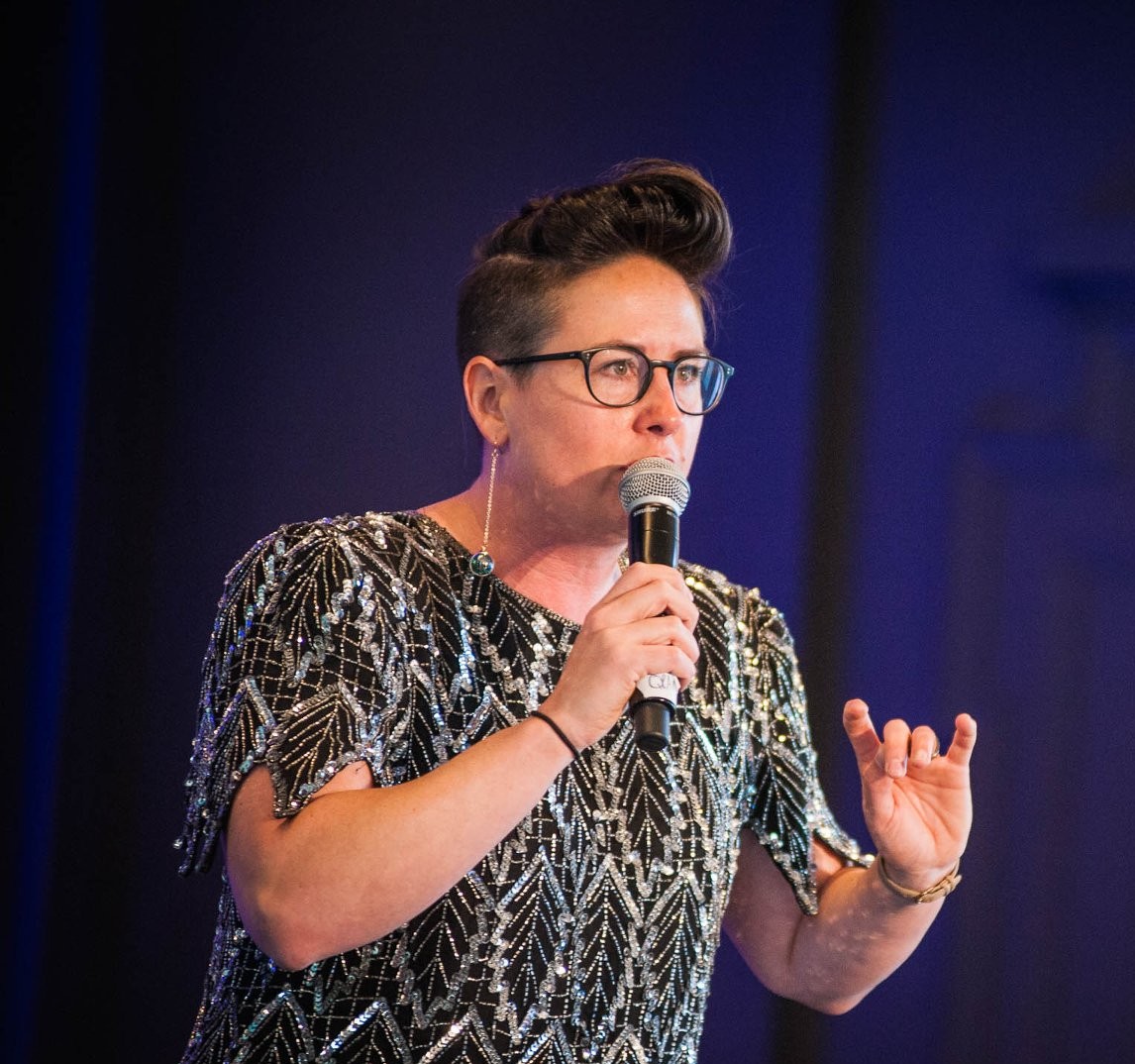 Nicolle Merrill is the founder of GlobalMe School, the online career platform that trains international students and professionals for adventurous international careers. In 2018, she launched www.internationalstudentcareers.com, a leading global career website for international students. Nicolle is the author of How to Get a Job in the USA: A Practical Guide for International Students.
Prior to GlobalMe School, Nicolle was an Associate Director of Career Services at Yale School of Management. Over two years, she helped hundreds of international students and global executives through global career transitions. Nicolle has worked with students who have landed roles at Google, Facebook, Amazon, the World Economic Forum, the UN, Alibaba, and numerous startups.
Nicolle has spoken to global audiences at American and European higher education conferences on preparing international students for global careers. She is finishing her second book on the future of work and career changers for release in Fall 2019.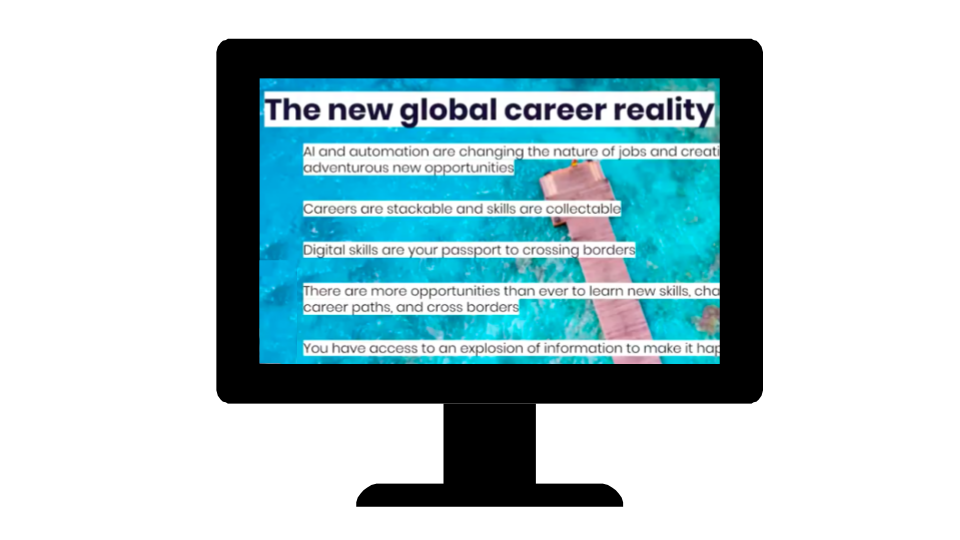 Our content gives you the answers you need to build a career in a foreign country.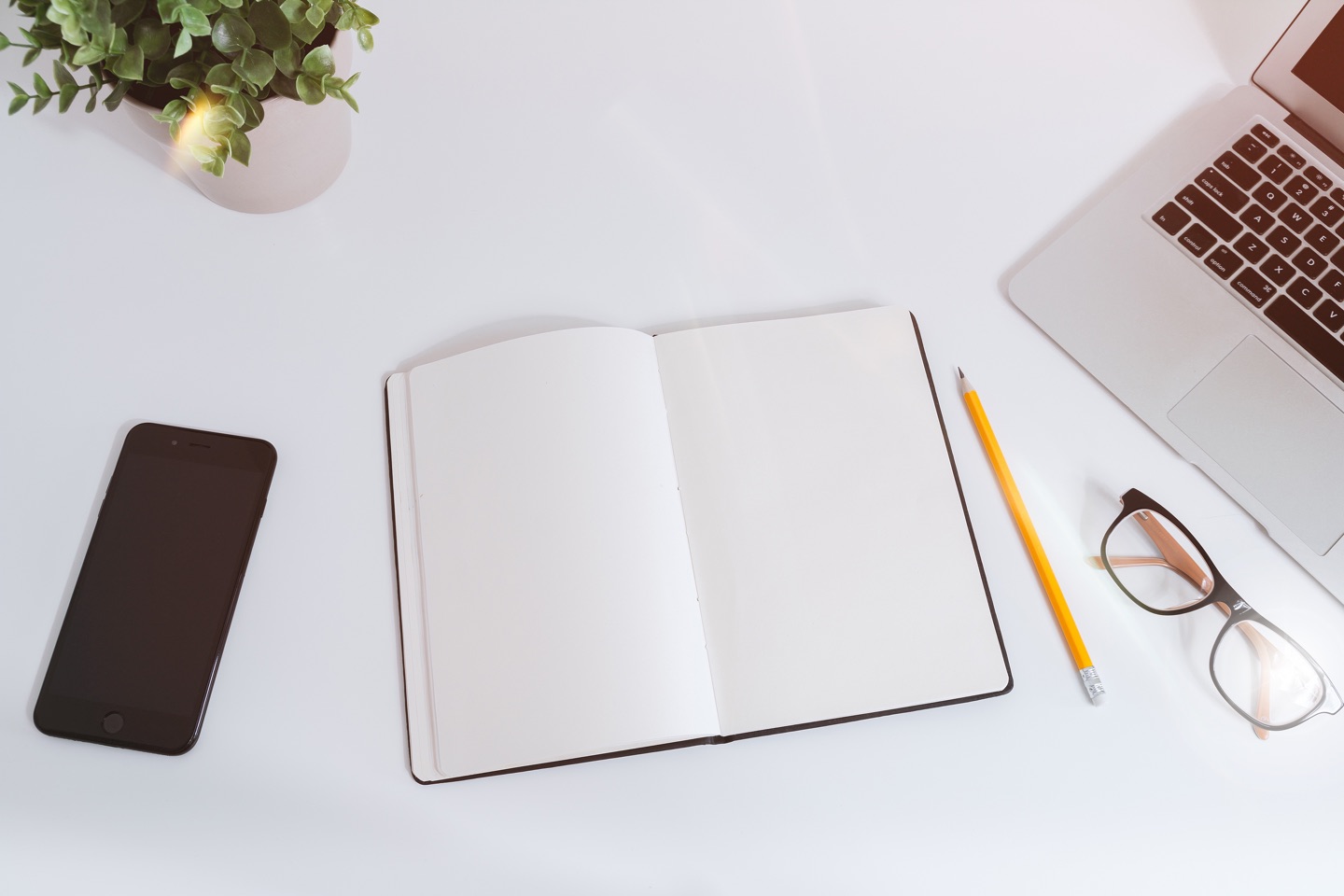 Amazing content. I hope you will continue offering workshops like this.
- Ha, Checklist: How to Get a Job in the US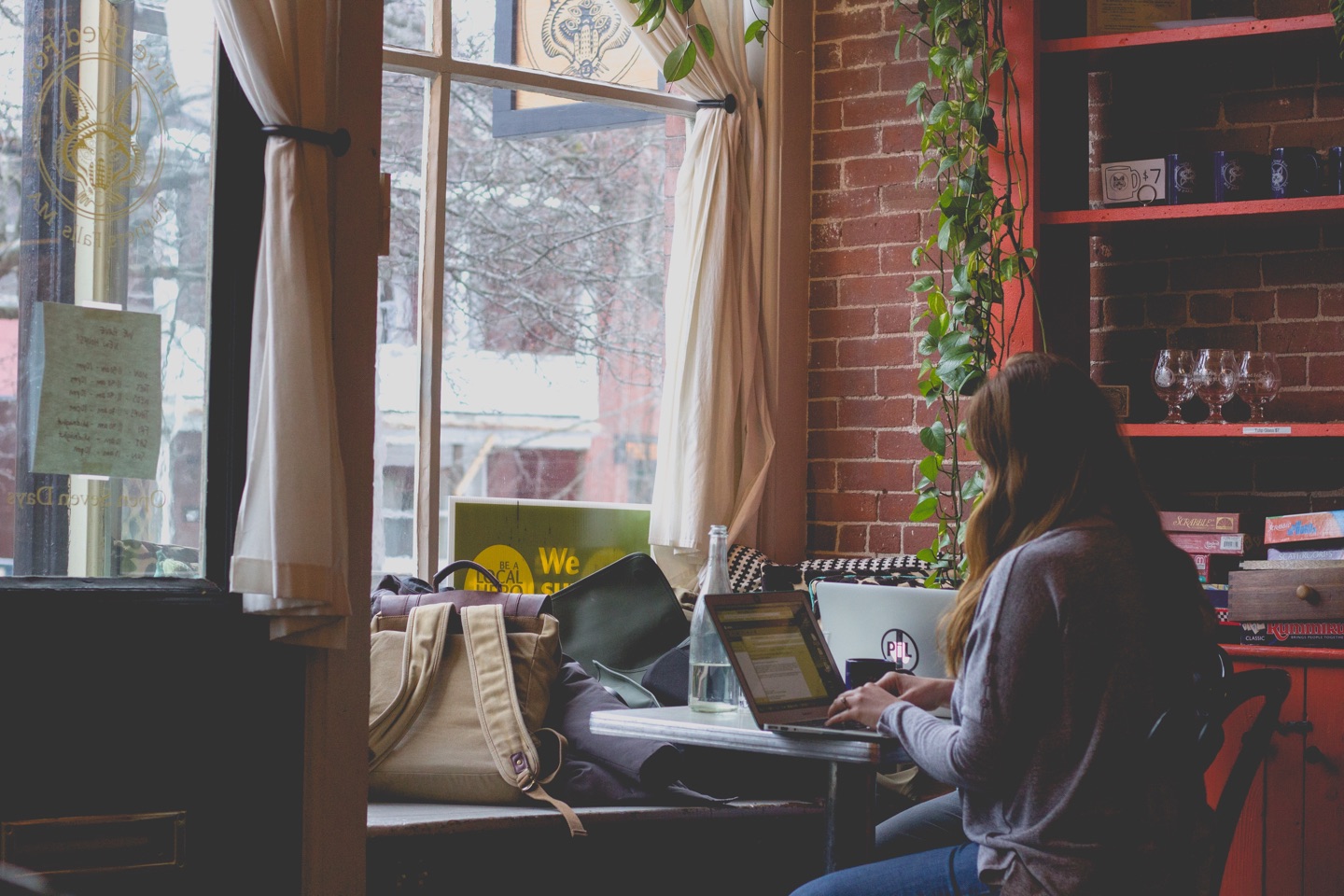 Thank you for the webinar! It was very informational.
- Shruti, Checklist: How to Get a Job in the US

H1B Accelerator Program members get access to:
300 companies that sponsored H-1B in 2018
30+ video explanations to improve your US job search outcomes
10+ email templates to save time in your outreach
3 webinars on job search strategy (60+ min each)
2 bonus content sections
Monthly Facebook live events for Q&A
1 email weekly to help you get closer to your dream job in the US.
Our membership price:
$147
$99 for April 2019
And we have scholarships.
Each month one student will be randomly selected to win a scholarship for a spot in the course ($147 value). Details announced in the application package.
More value for your money.
We know how expensive hiring a career coach can be. If you spent 8 weeks with a career coach, you'd pay over $1,000!
Our course gives you the support and advice you need at an affordable price:
Monthly Facebook live events for Q&A ($150 value)
8 weeks of training ($1555)
3 career webinars ($47 value)
Total value of training = $1752
You pay: $147 $99 for those enrolled in April 2019
Our career training program saves you money.
Our program is limited to 100 participants each month.
You must apply to get accepted.
Applications open for three days a month.
Serious international students only.
The H1B Jobs Accelerator Program is for international students who are graduating soon.
Our program is NOT for:
Students who only want to submit resumes online - you don't need to pay us for that :)

Students who don't want to commit to the job search (this group will add 5+ hours of job search homework to your week)


Students who aren't willing to adapt their behavior to a new culture

Students who in their last month of OPT (there's not enough time left - it takes between 3-6 months to get a job in the US

)
The H1B Accelerator Program is for:
Students who are motivated

Students who want to learn American business culture

Students who want to get a job in the US after graduation

Students who want structure, encouragement, and insights during their search

Curious?
Good. We love curious people.
Here's your next step. Sign up below to get notified when applications open.
This is your first step to success in the US Job Search.
This course is closed for enrollment.